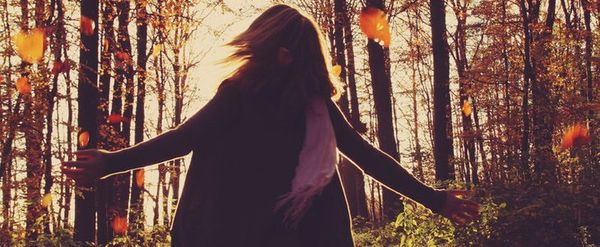 I was recently reminded of this poem I wrote a few seasons ago. May your November be blustery and beautiful.
My sister, November, came rushing in this morning.  
I could hear her shaking the trees outside my window  
As I half-slumbered and mused at her urgency.  
She is lovely. But not still, like Summer with her steady song and dance.  
October took her lazy time  
Enchanting us with her colorful, vibrant dance,  
But not to be outdone by our sister,  
November excitedly strips all the color and charms  
From the trees down below my window near the picnic bench.  
She is bewitching. And powerful. Anxious to move time and season forward.  
Dad says Summer has been traveling to a far distant location, visiting family I think.  
It was pleasant visiting with her for a while - her serenity and calm spirit soothe me.  
She is warm and steadying and thoughtful.  
I am also grateful for October's friendship, though she never stays long enough.  
I learn much from her spirit, her wild creativity. Her artistry.  
She encourages me to paint.  
November is at the door pounding now,  
So I'd better stop writing and go properly invite her in.  
I can hear the delight in her voice, building until it squeals through  
The cracks of my door in feverish, splendid howls. She is ever-expressive.  
My sisters are all so much like Father.  
And my Mother.  
Dad says we are each made up of different beautiful pieces of both him and my mom.  
I believe that.  
But Dad says that we girls get our looks from Mom for sure.  
I like how he always says that with a sparkle in his eye as he glances at Mom.  
I can tell He really loves Her. And us kids.  
Dad calls to me from upstairs, reminding me to go open the door for November…  
That she's waiting  
And she has a gift for me.