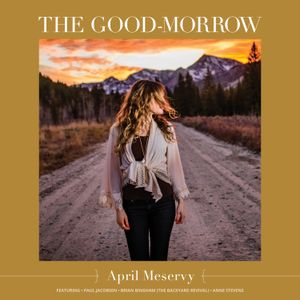 The title of my EP, THE GOOD-MORROW, was inspired by a poem I love, written by the 17th-century poet, John Donne ("The Good-Morrow"), portraying a deep, transcendent, awakening experience with love. The poem speaks to the journey my deepest relationships have taken me on over the last many, many years--as well as the path the current one is taking me on--stretching forward now into a relatively unknown, but hopeful future. The title seemed fitting for this project on several levels. This collection of songs also feel like the next chapter for me, post-"With or Without You." It includes more processing, and--importantly, more hope.
Track 1:  Paul Jacobsen introduced me to Kasey Chamber's song "The Quiet Life" as we were sorting through ideas for this EP. It was love at first listen. The song was simple, charming - and speaks to every country-side-yearning, nature-loving, romantic bone in my body. Given our highly involved and tech-focused lives, I think all of us at times wish for a little more simplicity. Sometimes I dream of living out in the country with the ones I love (Wallsburg or Midway would be nice) or in some quiet forest (in Utah or Muir Woods). Here's to your own heart's little cabin in the woods... I hope this song helps you feel a little closer to it. 
Track 2:  I have often wondered what I might leave in a note to my family should something ever unexpectedly happen to me. Given all the trouble and tragedy we see around us in the news, it's something I think most of us, at one time or another, have thought about. In one simple, eloquent lyric, the Avett Brothers captured my heart's feelings about what I would hope to express, "Always remember there was nothing worth sharing, like the love that let us share our name." 
For many years now, a couple of hand-picked compilations of the Avett Brothers' songs (introduced to me by Nate Wray), have accompanied me as I have traveled by car up the Provo Canyon, on train rides between SLC & Reno, sitting in window seats on airplane rides to CA, or simply as my daily soundtrack as I work from my desktop at home. It centers me somehow. I'm sure I've listened to Scott and Seth Avett sing "Murder in the City" at least 200 times. It was the first song I knew I wanted to record on THE GOOD-MORROW. I think of my family when I hear it and it reminds me of what is really worth sharing in life - love. 
Track 3: At the time Sarah McLachlan emerged onto the music scene her voice and writing seemed very different than anything I had heard at that point. I particularly loved the production. The clarity and space in her album "Surfacing" drew me in and I would spend hours in my room as a teenager pouring over the lyrics, the liner notes of the CD, and just trying to absorb every bit of her sound. It felt like these ethereal streams of magic dust poured out of my CD player and filled every corner of my room when I listened. "Angel" was among the group of songs that fed my soul-deep instincts to want to share my voice and stories with others.
Track 4: Every line of Coldplay's "Fix You" gives voice to different moments of my journey these last few years. I am grateful to Paul Jacobsen; this is his arrangement and it was at his suggestion that we consider trying it. I feel like it expresses so much of the human struggle; the rough patches we all face in losing sleep over broken dreams, loss, and grief - as well as the glimmer of light at the end of a dark period in our life. "Lights will guide you home and ignite your bones." We all want to help those we care for - and yet also often feel an intrinsic need to receive help at different moments in our own, often complex, journey.
I'm very grateful for Paul Jacobsen's heartfelt collaboration on this, Scott Wiley's guidance as we recorded, and Brian Bingham (The Backyard Revival) and Anne Stevens's beautiful playing. They have all been inspired muses for me in the process of putting together this album. I truly hope you like it!
You can listen to the whole EP here.
#thegoodmorrow #thequietlife  #murderinthecity  #angel  #fixyou